Opting for a mini-moon break in Yorkshire could be the perfect quick post-wedding escape. A romantic retreat without setting foot on a plane is just the ticket.
What is a mini moon?
A mini moon is a shorter version of a honeymoon. The ideal timing is a long weekend. It's usually taken immediately after a wedding.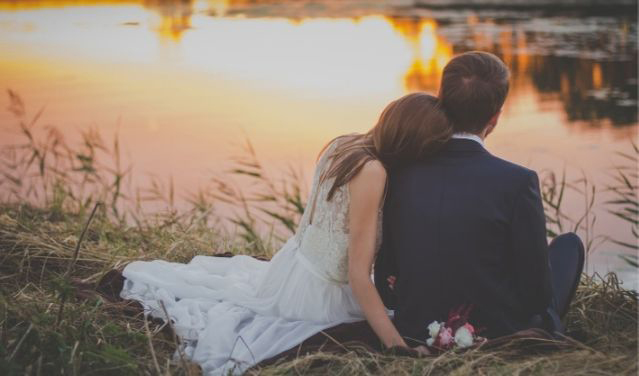 Where did the idea come from?
The idea originated with our friends across the pond. American couples can find it hard to get enough time off work in one go for wedding preparations, the wedding and a full honeymoon. A mini moon allows a time to relax without using up too much leave.
Why should you opt for a mini moon break?
You may decide to delay the honeymoon for a few months because of work pressures. But it can be depressing to go back to 'real life' straight after such a magical event as a wedding.
Also sometimes it may feel you haven't had any time to yourselves. There's such a flurry what with getting ready, the demands of photographers and catching up with family. We know our wedding seemed to absolutely fly by!
Could a mini moon make your honeymoon even more special?
It could be that going to your dream honeymoon destination straight after your wedding isn't the best timing.
For example, any honeymoon in the southern hemisphere will be the opposite season to the UK. Head to South Island New Zealand in July and you're probably have snow.
Dreaming of white sands and palm trees? In India and Southeast Asia monsoon season usually happens between April and September. The official hurricane season in the Caribbean runs from June to November.
Revel in wedding feedback or switch off completely
A mini moon in the UK, in a county such as Yorkshire, means you should be able to get internet connection. We have superfast Wifi here in Dalesend Cottages. So you can lap up all the wedding gossip and photos your guests are posting on social media.
However, you can also tell them a little white lie that your mini moon is so rural you won't be able to get reception. This allows you to turn off your phones and keep wrapped up in 'Just The Two Of Us' a little longer.
How a mini moon break Yorkshire style looks
 Just jump in the car and avoid the hassles of airport security checks and delays. You could even splash out a sporty rental car to add to the luxury.
Yorkshire is surprisingly accessible if you pick the right spot. We're only around 4 and a half hours' drive from London, 2 hours from Manchester and 1 hour from Newcastle. Despite our quiet, rural location, we're less than 15 minutes' drive from the A1.
In the spring:
Stroll together in the spring sunshine among daffodils and lambs. Explore charming market towns and gardens bursting into life.
In the summer:
Take a picnic to a romantic beck, watching the water dance as you laze on grass warmed by the sun.
In the autumn:
Kick your way through leaf-strewn lanes, admiring the woodsmoke rising above centuries' old cottages. Bronte fans can pretend to be Cathy and Heathcliff in the stunning Yorkshire moorland.
In the winter:
Warm up after a snowy walk in a quintessentially Yorkshire pub with a hot chocolate or hot toddy. Or explore the historic streets of a cathedral city like York or Ripon.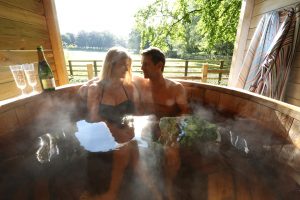 Ingredients for the best mini moon
 Wondering what makes the best place to stay during a romantic break? Here are some suggestions:
Private hot tub
Canopied bed
Super king size bed
Wood burner
Outdoor space for sundowner cocktails
A place with aspirational interior design to inspire your marital home
Perfect backdrops for selfies as Mr and Mrs
Hosts who can help you arrange thoughtful surprises
Fortunately we know of just the spot to provide all of these…
The ideal Yorkshire mini moon retreat
Here at Dalesend Cottages, we've four luxury rural slices of paradise to choose from. However we're assuming you'd prefer a king-size bed so:
Hayloft Cottage
The ideal mini moon for two in a beautifully romantic open plan space. Enjoy a super-king size bed, large sofa, wood burner and the ultimate indulgence of a luxurious free-standing bath.
Interested? Find out more about Hayloft.